Other News
---
2021 Study Away Photo & Video Contest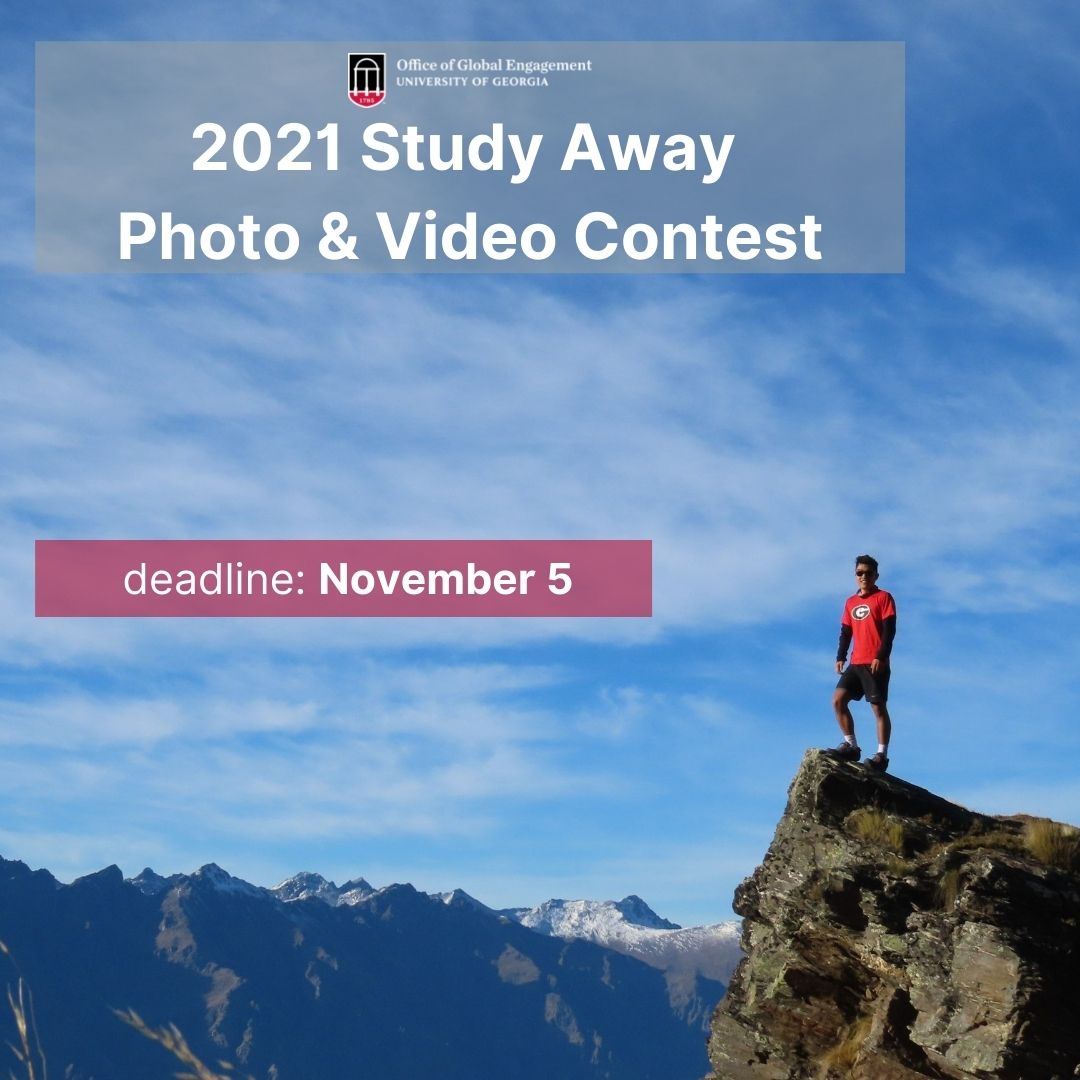 Deadline: November 5th at 11:30 PM

The Photo & Video Contest is an Office of Global Engagement tradition that serves to recognize our students' worldly adventures. To learn more, click the button below!
---
UGA Passport Initiative

Open to UGA undergraduate students who are U.S. citizens and have never obtained an adult U.S. passport (or their last passport was issued prior to the age of 16). This award will cover the cost of the passport up to $150.

Learn more and apply: https://studyaway.uga.edu/index.cfmFuseAction=Programs.ViewProgramAngular&id=13822
---
AIESEC
AIESEC at the University of Georgia is now starting recruitment for the Fall 2021 semester! AIESEC is the world's largest youth-led non-profit organization working towards peace and fulfilment of humankind's potential. In our local chapter, we are focused on facilitating international internships for UGA students as well as bringing international students to the United States for internship opportunities. AIESEC is represented in over 120 countries, including 25+ other local chapters right here in the United States. We are partnered with over 7,000 organizations worldwide and promise to provide our members with opportunities to grow personally and professionally. AIESEC is a great opportunity to educate yourself on global affairs and become a world citizen!

Interested in learning more? Check out our website https://www.aiesecus.org/lc/uga or visit us on Instagram @ugalocalcommittee for more information regarding upcoming information sessions.

Applications are due on September 06, 2021 at 11:59 PM EST and can be found on https://www.aiesecus.org/join.

Questions? Please feel free to email vptm-uga@aiesecus.org anytime!
---
The 1972 Stockholm Declaration at 50: Reflecting on a Half-Century of International Environmental Law
On Friday, October 8, 2021, the Georgia Journal of International Law will be hosting their annual conference. This year, the conference is entitled: "The 1972 Stockholm Declaration at 50: Reflecting on a Half-Century of International Environmental Law."

The 1972 United Nations Conference on the Human Environment produced the "Stockholm Declaration," an environmental manifesto that forcefully declared a human right to environmental health and birthed the field of modern international environmental law. In celebration of its 50th anniversary volume, the Georgia Journal of International and Comparative Law is convening a symposium to reflect on the first 50 years of international environmental law and the lessons this history may hold for the future.

For the event schedule and to sign up, please click here: http://www.law.uga.edu/gjiclfall2021