Other News
---
Peace Corps Prep Certificate
The University of Georgia and the Peace Corps Prep Program would like to announce a new program which will let you build the knowledge and acquire the skills necessary to join and serve in your preferred program area of the Peace Corps. Study abroad or exchange experiences can help students qualify for the certificate! More information can be found here.
---
Become a Peace Corps Ambassador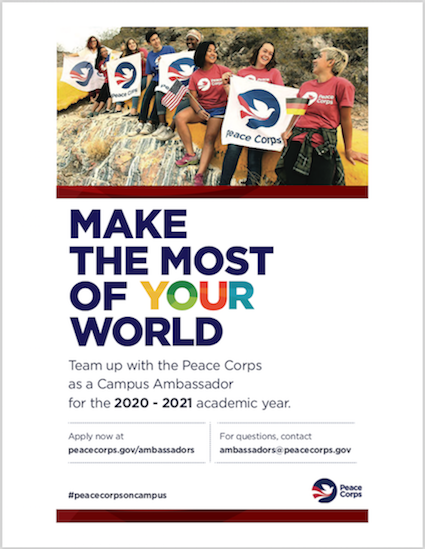 Campus ambassadors are university students who work closely with Peace Corps recruiters to raise the Peace Corps' profile on campus and introduce the Peace Corps to new and diverse student groups.
To learn more about this opportunity, click here.
---
Peace Corps vs. Americorps: Which One Is Right for You?
Peace Corps and Americorps are a great way for Americans to make a real difference in countries abroad and communities here at home. These programs also come with some valuable perks, such as financial aid for college and health coverage. Are you interested, but not sure which program is best suited for you?