Program Opportunities
---
Summer 2021 Volunteer and Internship Opportunities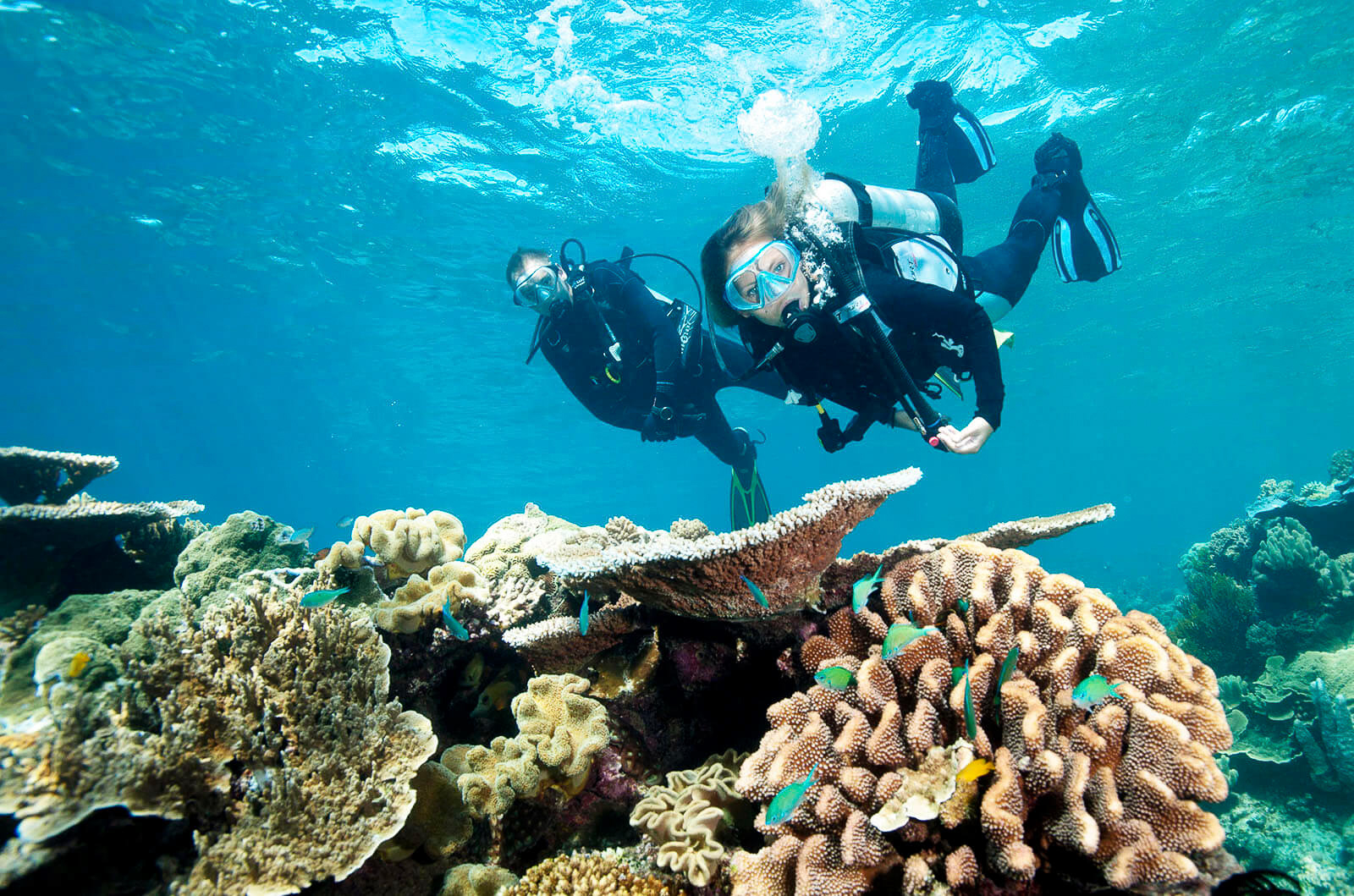 Volunteer Programs
The majority of International Volunteer HQ's programs have already reopened in countries where the
government advice, local health guidelines and border restrictions allow this.

With the world's largest range of volunteer abroad programs available year-round IVHQ brings people
from more than 150 countries together to make a collective impact.

Check out which programs are open to American students.

Internships
Intern Abroad HQ is a division of International Volunteer HQ. As a global team, we have supported over
113,000 program participants since 2007. As pioneers in the field of meaningful travel, we are also the
only international volunteer and internship provider to be B Corporation certified, meaning that we have
been externally audited and meet the highest social and environmental standards.

Gain real-world experience through an remote or in-country internship with Intern Abroad HQ. Our
affordable internships are custom built for students, graduates and young professionals seeking
international career experience within real businesses around the world.

Check out the most popular internship opportunities for summer 2021.

The blogs below give good insight into how other students have found their internship experiences:
---
Program Spotlight: People, Planet, and Profit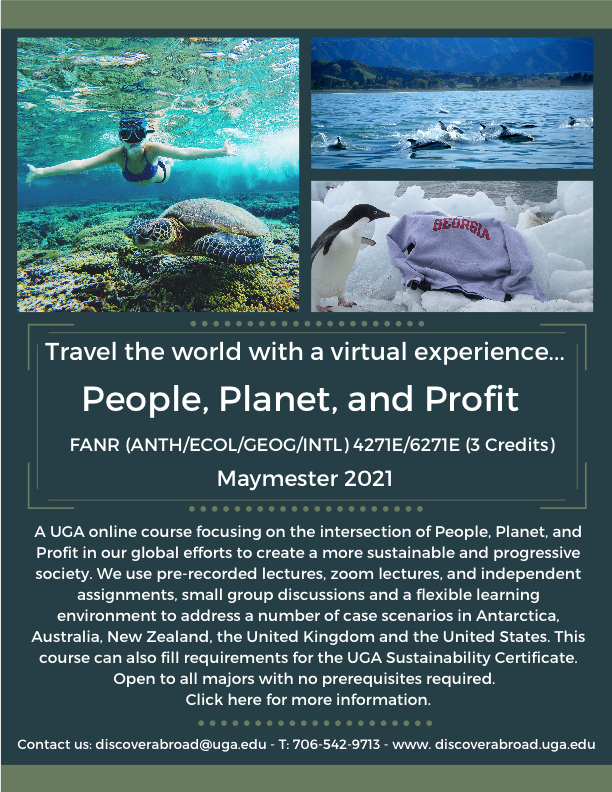 Class schedule: Spring Semester, Tuesdays 6:30 – 8:00pm weekly Zoom plus pre-recorded lectures and independent (flexible) assignments
Credits: 3 – 6 credits (select from Anthropology, Ecology, Forestry and Natural Resources, Geography, or International Affairs) in 4271e/6271e and open to all majors (no prerequisites).
This course is a virtual/electronic representation of our very popular Maymester South Pacific studies abroad program, delivered via Zoom and independent studies. It focuses on the intersection of People, Planet and Profit in our global efforts to create a more sustainable and progressive society. A combination of (1) synchronous lectures and seminars and (2) flexible pre-recorded lectures and independent assignments, are used to address some of the world's wicked problems and global issues (including climate change, biodiversity preservation, human and wildlife populations, renewable energies, circular economy, and over-tourism) in Antarctica, Australia, New Zealand, United Kingdom, and the United States.
There are no prerequisites nor corequisites and all students in good academic standing are eligible to take the course. Credit is offered for 3 semester hours at the undergraduate level (4271) or graduate level (6271). For full details (including CRNs), download the syllabus (PDF)
---
Program Spotlight: Discover the Great Smoky Mountains National Park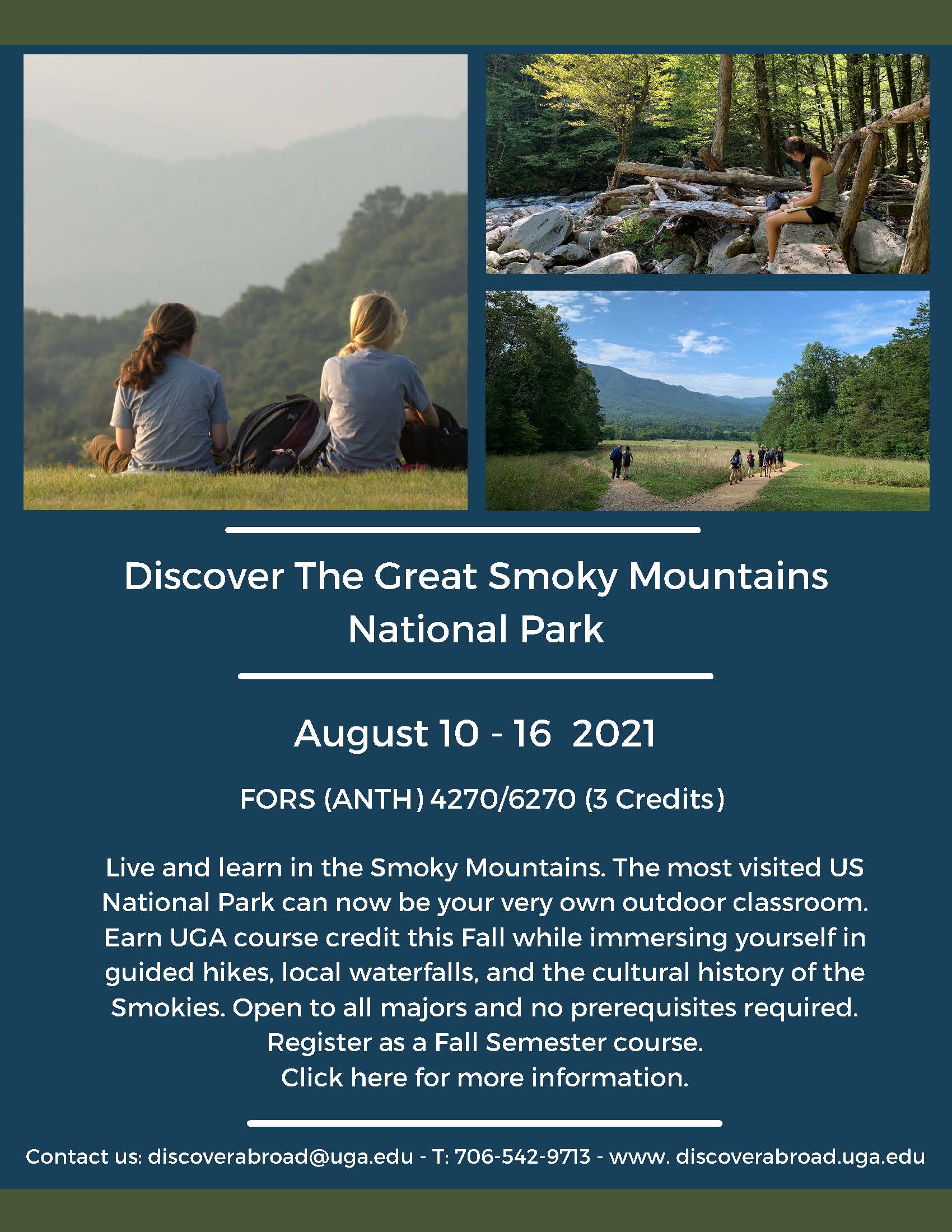 Discover The Great Smoky Mountains National Park
August 10 - 16 2021
Contact us: discoverabroad@uga.edu - T: 706-542-9713 - www. discoverabroad.uga.edu
FORS (ANTH) 4270/6270 (3 Credits)
Live and learn in the Smoky Mountains. The most visited US National Park can now be your very own outdoor classroom. Earn UGA course credit this Fall while immersing yourself in guided hikes, local waterfalls, and the cultural history of the Smokies. Open to all majors and no prerequisites required. Register as a Fall Semester course. Click here for more information. Discover The Great Smoky Mountains National Park August 10 - 16 2021 Contact us: discoverabroad@uga.edu - T: 706-542-9713 - www. discoverabroad.uga.edu
---
Program Spotlight: UGA Greece Virtual Studies Program- from Athens to Athens
Program Dates: 5/19/2021 to 6/9/2021
An interdisciplinary collaboration between the College of Family and Consumer Sciences and the College of Agricultural and Environmental Sciences.
Earn 3 hours of FHCE 5712E/7712E - Study Away Experience of Greek Culture, Institutions and the Greek Financial Crisis, Instructor: Effie Antonoudi
Or
Earn 3 hours of AAEC 3912E - Virtual Study Away Experience in Greek International Agribusiness and Environmental Management, Instructor: Dr. Genti Kostandini
Scholarships: scholarship opportunities available for FACS students here. More scholarships may be available. Students are encouraged to inquire about scholarship opportunities.
Eligibility: This program is open to students from all majors.
An application is required to participate in the program!
---
Program Spotlight: UGA Classics in Rome
Read about UGA student Michelle Manganiello's experience with the UGA Classics in Rome program below! You can learn more about the Classics in Rome program here.
Midterm application deadline: November 15, or when spots are filled. Admissions will be done on a rolling basis.
Cost: $4900 (this includes the $300 application fee) PLUS UGA TUITION AND SOME UGA STUDENT FEES.
What I Gained from Participating in the UGA Classics in Rome Study Abroad Program
by Michelle Manganiello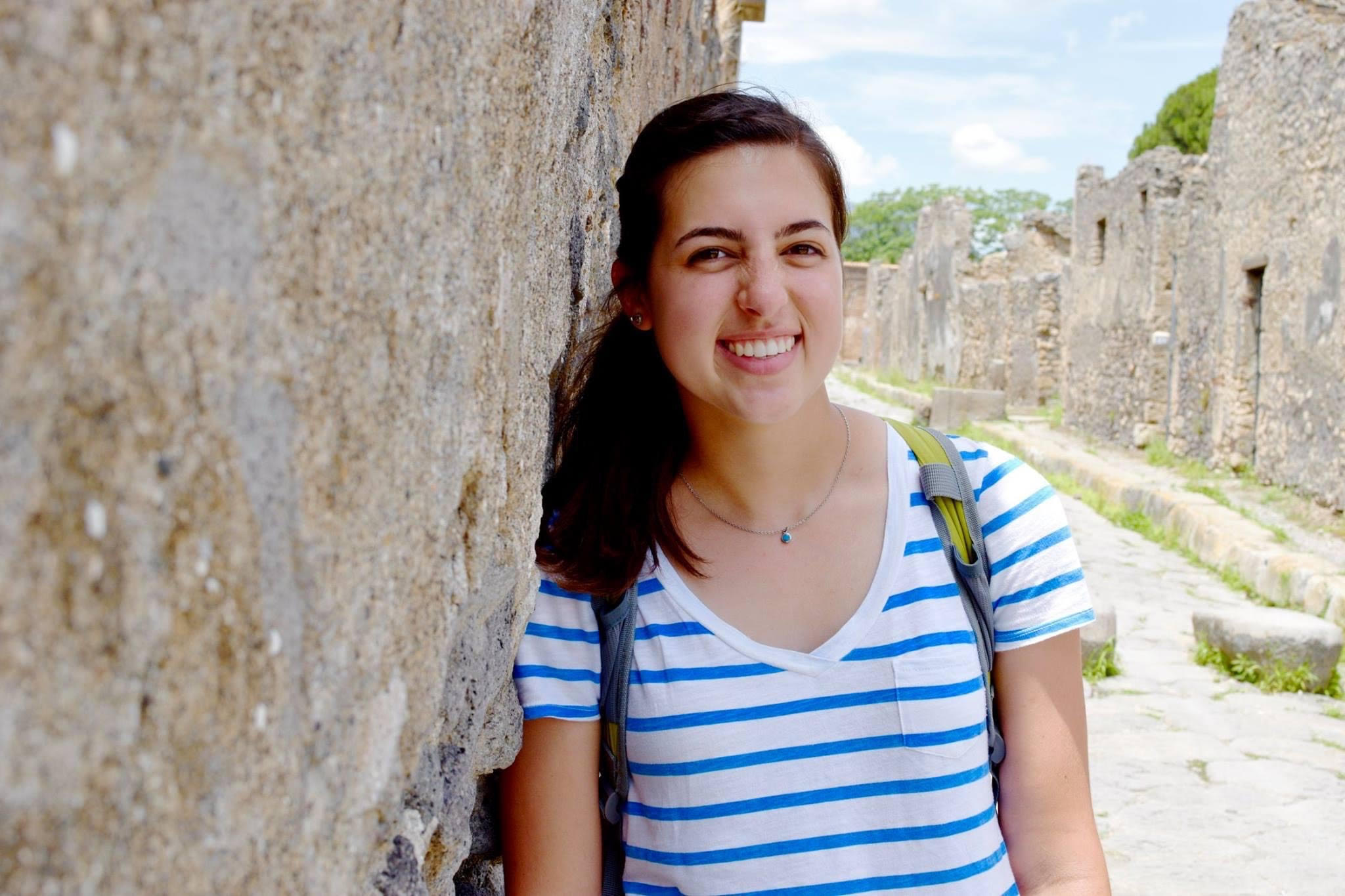 Hi there! My name is Michelle Manganiello (she/hers/her) and I am a fourth-year student studying English and Romance Languages at the University of Georgia. The summer after my freshman year, I participated in the UGA Classics in Rome Study Abroad Program. During this study abroad program, I was able to expand my academic horizons by practicing my Italian and by learning about ancient Roman history. I also learned more about myself because of my experiences during the program and the friends I made. Ultimately, this program helped propel my passion for the Italian language and culture, and especially the city of Rome.
The first reason that this study abroad programs holds such a dear place in my heart is because of the people I shared this trip with. I remember visiting Capri and Friday movie nights with McKenzie, Aaron and Tyler. I remember sitting on the lawn of the Villa d'Este with Neil. I remember visiting the Vatican, travelling to Orvieto, having picnics at the Villa Borghese, going to restaurants and getting the best gelato in town with my friends. The last night, I remember running around the streets of Rome with my friends, throwing a coin in The Trevi Fountain and getting gelato one last time. I would be back – that was for certain.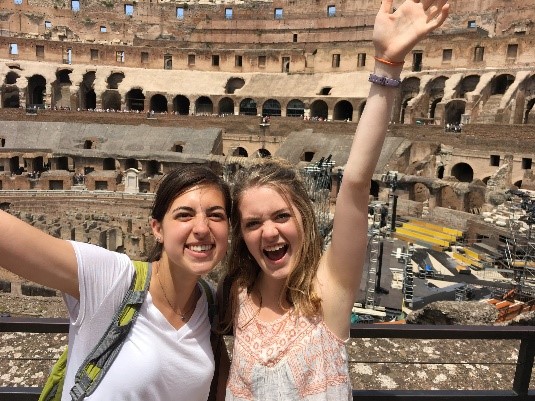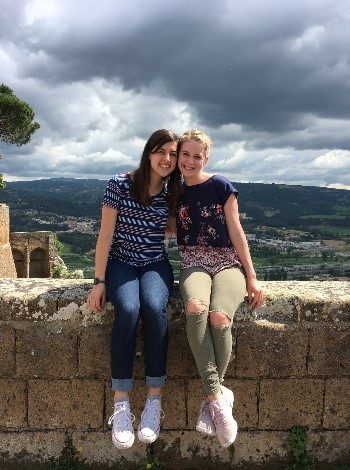 The friendships that I made were one of the best parts of the program. I remember when I was sitting with my newfound friends at the airport and I had my first interaction with my friend, Neil. We were talking about the Italian language, and I mentioned that was one of the primary reasons of why I wanted to go – to practice Italian in real-time, instead of in a classroom at UGA. He wanted me to teach him some Italian, so we started out with basic phrases, like "Hello," "How are you?" and "How much does this cost?" Throughout the summer, Neil and I became good friends and I am very thankful of the friendship we have today, because of the program.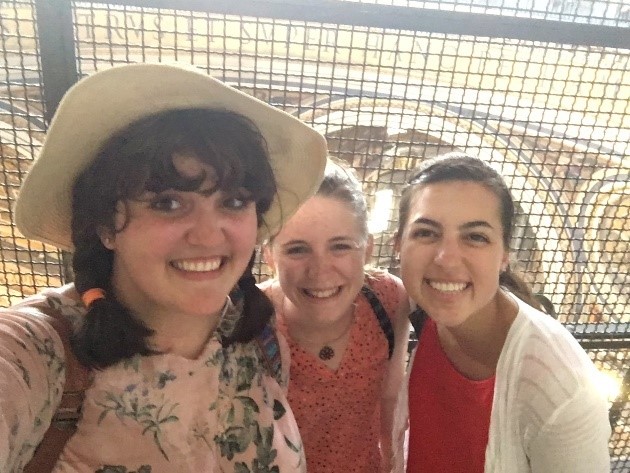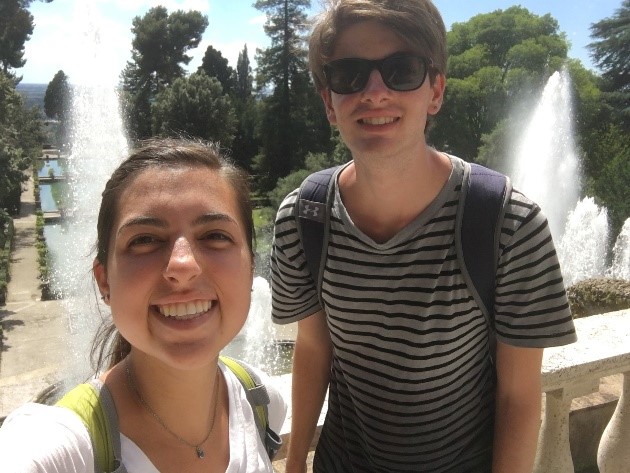 My study abroad program also changed the way I looked at learning languages. I was an avid student of Italian at the time, and I still am today, so one of the main reasons that I wanted to go to Italy was to practice this beautiful language. During my study abroad, I learned that practicing Italian at UGA and practicing it in Italy are two very different things. To learn a language, you can't be afraid of making mistakes – you have to talk and learn as you go, because that is the only way you will make any progress. In Italy, I was timid and I didn't practice the language as much as I wanted. As I think back on this now, I don't regret my shyness – I think of it as a step of growth. I grew into my passion for the Italian language after this program, and I continued to take Italian classes and go to Italian language conversation table. This program instilled a passion for the language that has grown to new heights since I've left Rome.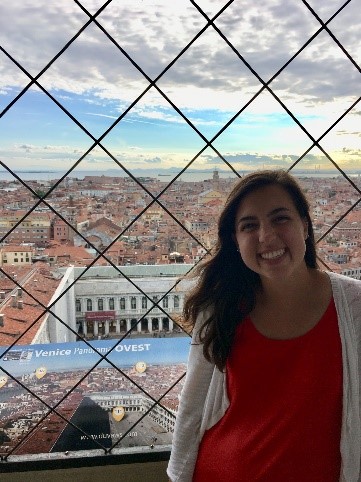 I was in Rome during the summer of 2017, but I was learning about the city during antiquity. It was so interesting to see a modern city blended with ancient monuments and statues that are still standing from 7th Century BC. When I returned from Rome, I saw these statues and monuments in my Italian textbook, and I was ecstatic to say that I had been there in the flesh! Seeing these parts of history in my book that I had seen in-person also makes me think about how this program has impacted me academically. The classes that I took during the program were classes on ancient Roman architecture, art and civilization. In these classes, I learned about Mussolini's fascist regime, I walked the steps of the Triumvirate route, I analyzed the reliefs on Trajan's Column and the Arch of Titus, and I learned about ancient graffiti in Pompei, called Dipinti. This program, more than any other international program I've been on, was one of the most hands-on, global experiences that I've had. These lectures were not in classrooms, they were in the streets of Rome, on metro buses, in gardens, in front of the Victor Emmanuel Monument and within the ancient walls of Pompeii and Herculaneum. I truly felt like I was a part of history, walking with the ancient emperors as they fought, won, and conquered spoils of war with the Roman Empire time and time again. To say I got a glimpse of Roman history is an understatement – I was immersed in it.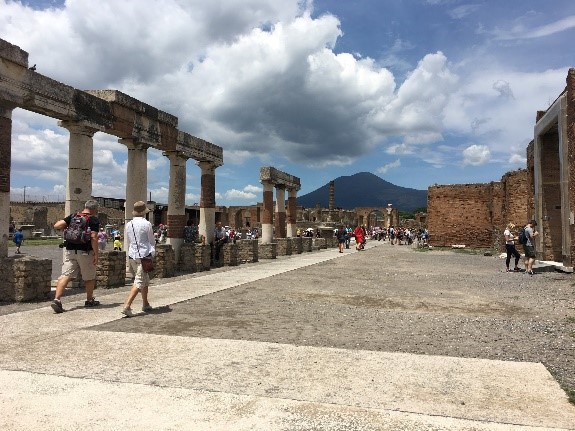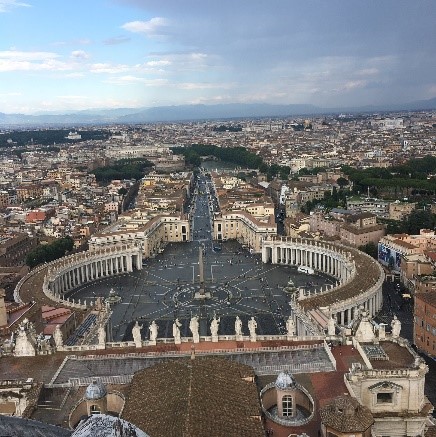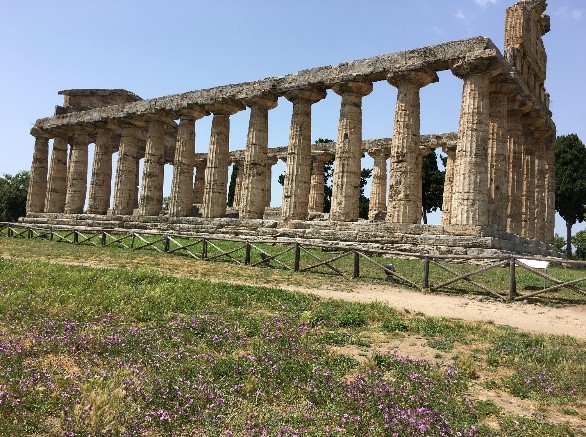 During my study abroad program, I also came to learn more about myself, and I became more comfortable with my own company. I remember there was one afternoon when my friends went to explore the town of Rome, and I decided to spend some time by myself in the Villa Borghese Park. As much as I loved playing UNO at the Hotel Ercoli, travelling and eating together with my friends, I also cherished my time alone in this foreign country, as I got to sit back and reflect on this amazing experience I was having.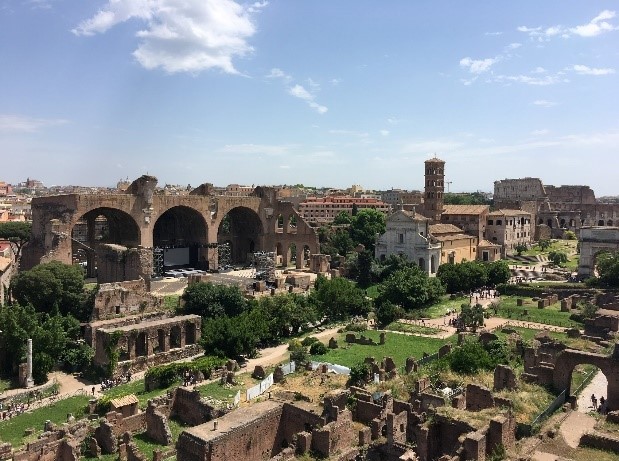 When I returned from my study abroad, I felt more educated, sophisticated, and worldly. I felt so lucky that I had the chance to spend a summer in Rome, and that I had many new friends to spend time with in Athens. Moreover, I now took extra note when I read books and authors mentioned Rome.
The Novel, by James A. Michener is a captivating story about the art of writing and the world of book publishing, written from four perspectives: a writer, a publisher, a critic, and a reader. In Part 3 of the book, a literary critic goes to Europe to gain more insight into the diverse literature he has read. When this critic travels to Rome, he says,
"...I now found Roma, as I insisted upon calling it, a city incredibly noble and historically rich quite aside from its close connection with the Vatican. Strolling with guidebook in hand, I could visit in the course of any one-day pre-Christian ruins, heroic memorials of the great emperors, others dating from the time of Christ, churches from the time when civilization was darkened, monuments of the Renaissance, memorials of the papal states, and the grandiloquent vestiges of Mussolini's rampage. Does any other city offer so much? I asked myself as I wondered from one historic site to the next, and as my eight days drew to a close I suddenly realized that I had spent them all in Roma, not venturing into the countryside on a single exploratory bus trip. 'Roma is enough,' I said."
Educated, by Tara Westover is another wonderful book -- one of my favorites in fact. In her memoir, Tara Westover talks about her non-conventional childhood as she grows up in a fundamentalist Mormon community in Idaho. Because of her parent's beliefs, she is not permitted to participate in any government-funded activities, which include going to school and visiting the doctor. When Westover finally gains entrance to college (Brigham Young University), she jumps at the chance to study abroad at the University of Cambridge in England. During her time traveling abroad, she travels to Rome with her newfound friends. Westover writes,
"For two days we explored Rome, a city that is both a living organism and a fossil. Bleached structures from antiquity lay like dried bones, embedded in pulsating cables and thrumming traffic, the arteries of modern life. We visited the Pantheon, the Roman Forum, the Sistine Chapel. My instinct was to worship, to venerate. That was how I felt toward the whole city: that it should be put behind glass, adored from a distance, never touched, never altered."
In short, the more time I spend away from this city, the more its glory slowly sinks into me. Before I visited Rome, the word "Rome" did not hold any true significance to me. My views changed drastically during and after the program. Rome not only shaped me, but it has also impacted authors, art, literature, universities, world leaders, and other cities and states across the world. This metropolis holds its title of "eternal city" without a doubt. Rome is a character. A character that never leaves you, but sits in your mind and urges you to turn to the next page, even when you're done reading the book.
I am a senior now, and I currently work for the Office of Global Engagement as a Junior Advisor. I can confidently say that the UGA Classics in Rome Study Abroad Program gave me an immense appreciation of Rome, formed my passion for the Italian language, and helped shape me as an individual. Studying abroad is a wonderful experience, and I would recommend participating in it, if you ever get a chance.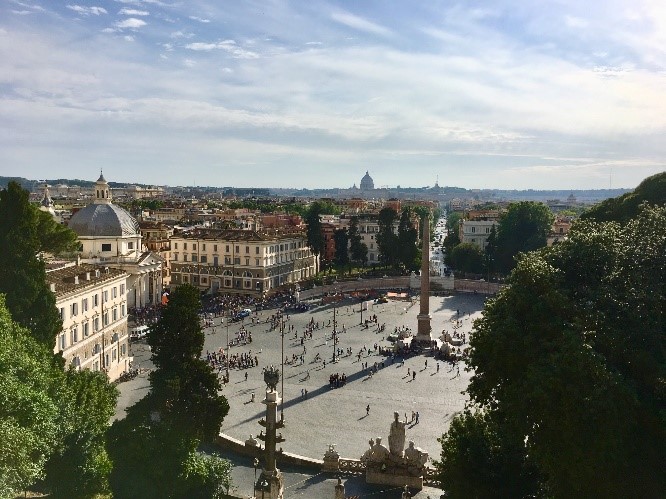 ---
Foundation for International Education (FIE) Online Internships Available
FIE Online's International Internship Course nurtures an understanding of digital cultures and hones independent working and time management skills. The online internship consists of both the internship and the course around it – allowing you to contextualize the cultural aspect of your experience.
Listen to FIE's Online International Internships podcast here.
---
UGA Exchange Application for Summer and Fall 2021 Due February 1
Welcome 2021 - It's a New Year.....Get started on your UGA Exchange Application for Fall 2021
UGA Exchange Application Deadlin­­­es:
February 1 for Summer, Fall 2021 and Academic Year 2021-21 UGA Exchange Programs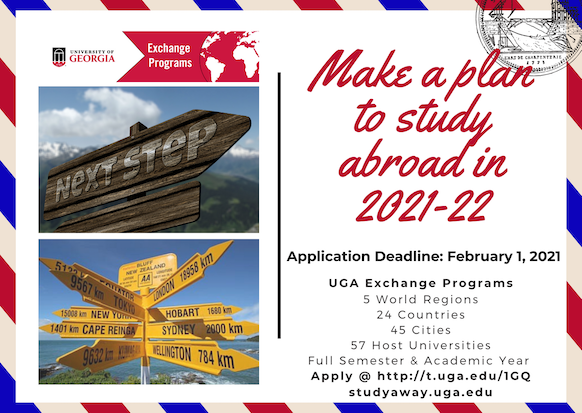 WHAT MAKES STUDYING ABROAD WITH A UGA EXCHANGE PROGRAM UNIQUE?
Flexibility to choose from the widest group of academic subjects offered
Greater independence to explore your host country and organize your own daily activities
Strong cultural and direct academic immersion experience abroad
Directly enroll at a UGA partner institution & take classes with Host University students
Study subjects in English and/or in the language of your Host Country
Live and study abroad for a full semester or longer
Meet international exchange students studying at UGA
TO APPLY:
http://t.uga.edu/1GQ
&
http://studyaway.uga.edu
COSTS & FINANCIAL AID: UGA students pay an Exchange Program Fee: (currently $6,040/semester), which is equivalent to UGA in-state tuition/fees (payable to UGA.) Additional expenses include airfare, meals & accommodation expenses at Host University, study abroad insurance, and other personal expenses.

HOPE, Zell Miller, Pell Grants & other UGA Financial Aid will apply toward UGA Exchange Programs.
Additional Study Abroad Scholarship Opportunities:
--ACADEMIC AREAS:
While on exchange, students take regular university courses offered by the host institution; Exchange Programs offer a variety of subjects suitable for a wide range of majors, minors, elective and core areas of study. In addition, many programs will offer language and culture study as part of the curriculum.
UGA Exchange Programs Chart by School/College (PDF)
---
European Interdisciplinary Master in African Studies
Deadlines:
February 28, 2021 (EMJMD student scholarships)
April 30, 2021 (self-funded)
Building on their outstanding and internationally recognised strengths in African Studies,
the University of Bayreuth, Germany,

the Bordeaux Montaigne University, France, and

the University of Porto, Portugal,
have developed a Joint Master Programme in the framework of Erasmus Mundus (EMJMD). The "European Interdisciplinary Master African Studies" (EIMAS) will spearhead innovative approaches in teaching African Studies.
The framing concept of the Erasmus Mundus Joint Master Degree (EMJMD) EIMAS is "Global Africa". Current concepts of African Studies focus on a concept of Africa in itself, or as the object of outside influences. Our Global Africa Approach will take Africa and Africans as global players and enhance previous concepts by adding this perspective. The EIMAS provides an integrated approach, focusing on the nexus between Identity, Territory and Sustainability, designed to transcend the limitations of both conventional area studies and global studies, while acknowledging alternative narratives and encouraging active involvement cooperation in and with Africa.
---
Global Buddies Program
Deadline: January 19, 2021
The Global Buddies Program pairs international students with a partner student from the U.S. to meet periodically and share cultural perspectives and build long-lasting friendships. Whether you meet virtually or socially distant in person, international students and U.S. students will learn about new cultures and form new friendships throughout the semester. Especially during the COVID-19 pandemic, we hope that the Global Buddies Program will allow you to make a meaningful connection on campus.

Are you interested in joining the fun and making a friend from a different part of the world? You can find more information on the Global Buddies Program on the International Student Life website, and you can apply here.