Other News
---
OGE PR Intern Positions Available!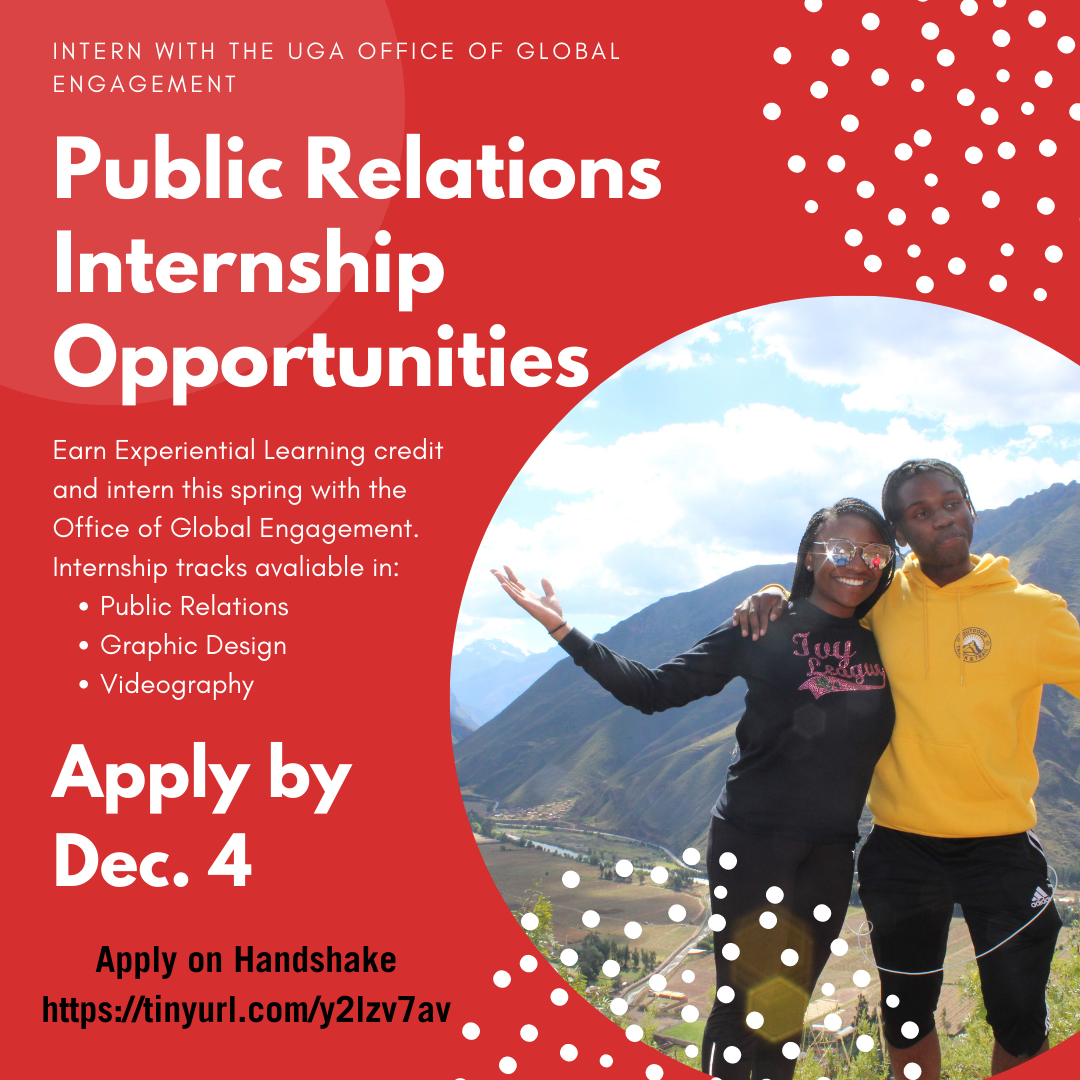 Earn Experiential Learning credit and intern this spring with the Office of Global Engagement. Internship tracks available in:
Public Relations
Graphic Design
Videography
Apply by December 4th!
---
2020 Study Away Photo and Video Contest
The annual OGE Study Away Photo and Video Contest is back! The first place award is a gift certificate to a local restaurant!
Timeline
Applications open- September 23

Deadline for submissions- extended to Friday, November 13th at midnight!

Online voting begins- November 20

Online voting ends- December 4
Categories
Dawgs around the World: Showcase your school spirit around the world by wearing or displaying Georgia colors and gear. Descriptions should mention what it means to you to represent the University of Georgia while away. Photos in this category can be taken

inside or outside

of the U.S. A committee will choose three winners for this category.
Best Photo:

Share your exchange or study abroad experience in this expansive category. Submissions can include wildlife/nature, culture/people, artistic photos, etc. Photos in this category can be taken

inside or outside

of the U.S.

A committee will choose three winners for this category.

People's Choice:

This category includes all photo submissions and voting is open to the public via Facebook. Facebook likes will determine three winners for this category.
Best Video: a committee will choose one winner for this category.
The 2020 Study Away Photo and Video Contest is now closed. To vote for People's Choice, click here.
---
Join Education Abroad Ambassadors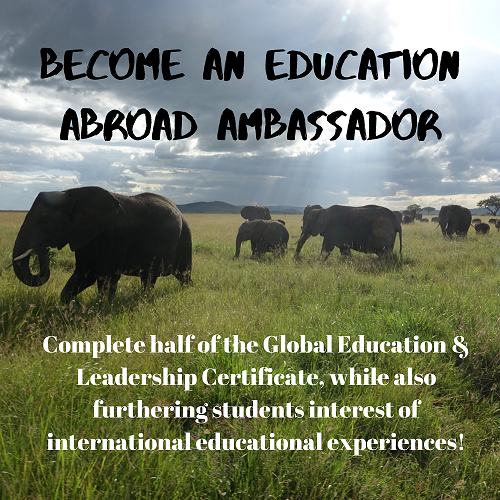 Interested in sharing your study abroad experience with others and connecting with other returned study abroad students? Get involved with the Education Abroad Ambassadors! EA Ambassadors serve to promote and support students interested in study abroad experiences, support the efforts of the UGA Office of Global Engagement, and seek to further student interest in international educational experiences through their interaction with fellow students.
---
Xchanged Life Buddy Program Application Due December 10th
Deadline: December 10 (reading day)

Xchanged Life is a student organization which provides a platform for UGA students to interact with incoming exchange students. One of our programs is a "Buddy System" which pairs a UGA student with an exchange student to help their transition to UGA. Responsibilities include guiding them to the appropriate contact with any questions they may have, being a social contact for them, and generally checking in on them and their time here for the semester. Think of it as you are their first friend at UGA, and maybe in the US! The time commitment is up to you, we just ask that you be friendly and open to your exchange buddy.
If you decide to participate in the buddy program, you will receive involvement credit for GELC.
Please contact Xchanged Life VP Emily Mayville (ecm49805@uga.edu) with any questions.
---
Follow Xchanged Life Student Club on Instagram!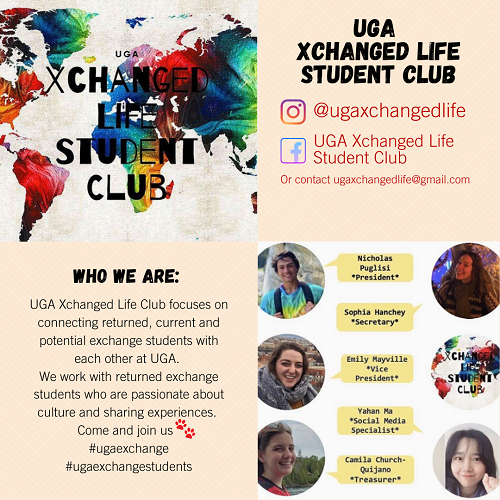 About: UGA Xchanged Life Club focuses on connecting returned, current, and potential exchange students with each other at UGA. They work with returned exchange students who are passionate about culture and sharing experiences.
Social media handles:
instagram: @ugaxchanged life
facebook: UGA Xchanged Life Student Club